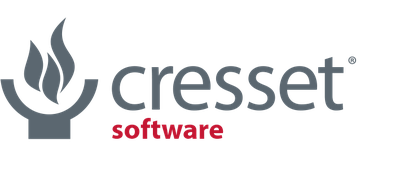 Cresset was founded by Dr Andy Vinter in 2002. His ground-breaking research on new virtual screening technology for drug discovery formed the scientific foundation of the company and has underpinned our technical development ever since. Cresset software relies on robust scientific methods that use 3D molecular electrostatics and shape to shed light on the properties and behaviors of chemical structures and, crucially, to understand the key interactions which underpin biological activity.
Computational and medicinal chemists use Cresset's software solutions to create models of how molecules interact with each other, in order to understand which molecules are most likely to create the biological effects that they want. They carry out virtual experiments to discover the likely results of changes to the molecular structure, before choosing which molecules to make and test in the laboratory. Today, chemists in the world's leading research organizations use Flare™ and Forge™ for structure-based and ligand-based molecule design, while Blaze™ and Spark™ offer leading solutions for virtual screening and bioisostere replacement.
In addition, Cresset Discovery Services offers computational chemistry consulting; helping companies remove roadblocks in their project and giving new ideas about the next best steps for their research. 
Elixir Software was launched in 2012 by co-founders Paul Faulder and Martin Harrison with the sole purpose of creating software to improve the efficiency of team work, focussing initially on the scientific R&D community.
Having built a team of software engineers and scientists with a legacy of experience in pharmaceutical and biotech R&D, Elixir created and continue to develop their core technology, iTraX; a vizually rich, web-based real-time tracking application, used by managers and scientists to better plan, manage and track delivery of work into scientific R&D projects.
Elixir invested significant resource into a configuration of iTraX™ that created their flagship application chemTraX™ to support the Design-Make-Test-Analyze workflow that underpins the mantra of chemistry teams working towards their next clinical candidate. chemTraX captures design hypotheses and design ideas and facilitates the tracking of compounds through the synthesis cycle whether carried out in-house or with outsourced partners. 
chemTraX is a popular addition to the software toolbox of major pharmaceutical companies and smaller biotech companies alike due to its ability to unite disparate and co-located teams onto a single application, and the transparency and efficiency savings that it brings.