The need to communicate chemistry-rich information effectively
The unique nature of small molecule research means that structures, techniques, and results, cannot always be reported in simple text format. As standard tools are not designed to be chemistry-aware, users are unable to capture and search for sophisticated structural information. In addition, multiple organizations are often involved in rapidly evolving projects, where real-time updates following new data must quickly be shared with all stakeholders, to inform operational priorities. So, what then, is the best way to work collaboratively on pharmaceutical projects, where speed, security, and clarity of information transfer, can make-or-break progress? Astonishingly, most chemists still use email to disseminate experimental data and progress information. This can be a hinderance for many reasons, including reduction in speed of project progression. Collaborations often work across continents and between time zones, with very little alignment of working hours, meaning that email response times and therefore slow operational updates can be inhibitive.
Cloud-based software solutions are globally adopted for instant information transfer and collaborative working, although almost none of them are tailored to the chemical sciences. Torx provides a complete suite of tools, specifically created for collaborative discovery chemistry in the modern era. Using Torx, research scientists can now virtually capture unlimited chemical structures and behavioral/performance data in a secure web-based platform, where all stakeholders across the globe, have real-time access. This enhances clarity of information across the entire team, and minimizes effort typically wasted on 'dead ends' due to miscommunication. In addition, updates are all recorded in a time-stamped audit log, meaning that historical progression information is always available for presentation and IP purposes.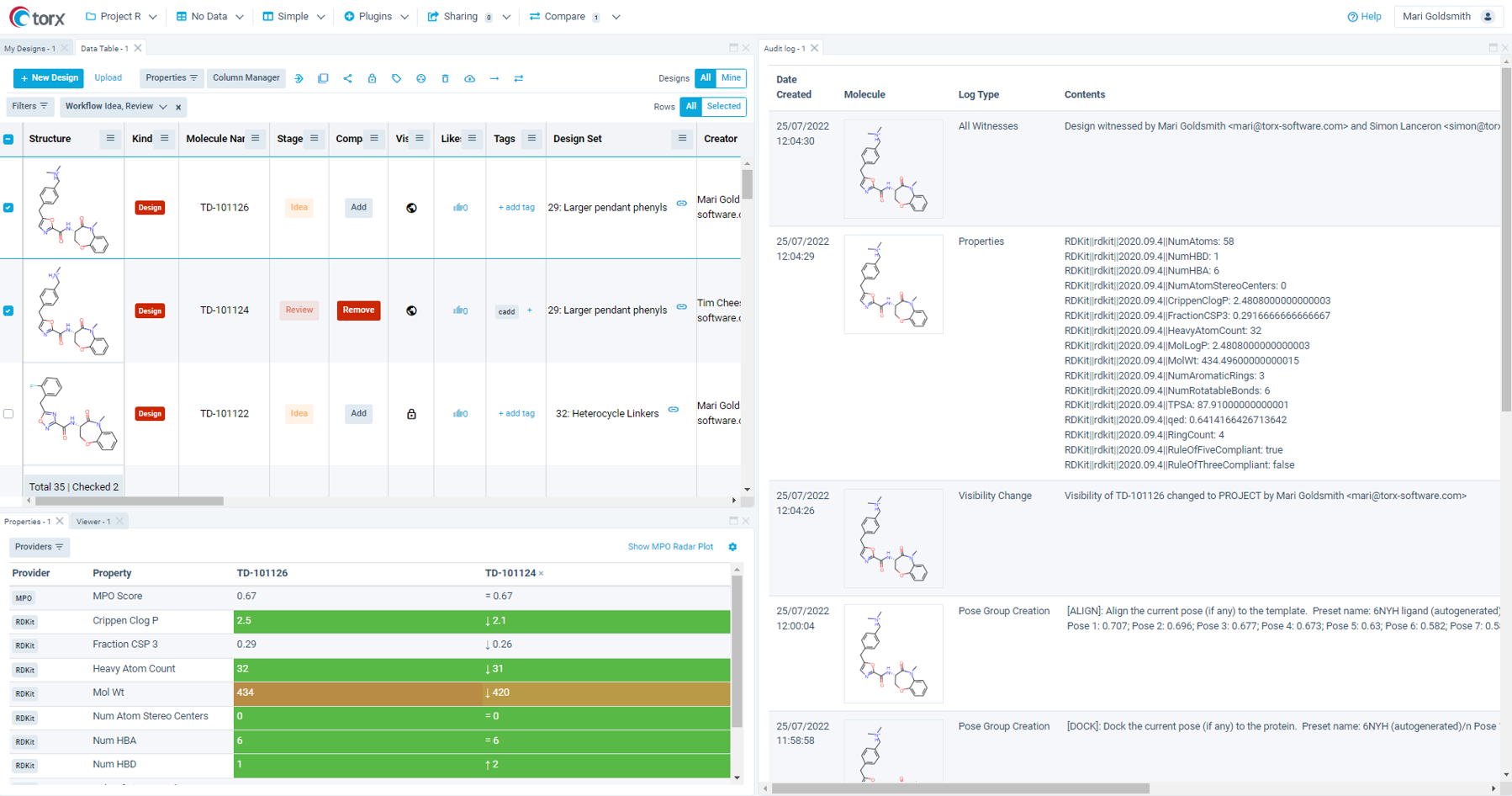 Figure 1. Users can create their custom environment in Torx Design to show all the relevant structural information and physico-chemical properties of their project compounds. The audit log (right) keeps a comprehensive, time-stamped record of all contributions and modifications.