News
Review of Efficient Drug Discovery Through Connected Chemistry symposium
Merck Research Laboratories, Boston, was the host for this meeting with a central theme 'Design, Make, Test and Analysis', effecting efficient collaboration, and information sharing across all processes involved with drug discovery, design and synthesis (Design-Make-Test- Analysis, DMTA). David Hollinshead, Elixir, began the morning presenting iTraX (chemTraX) software tools monitoring the complete drug discovery process. Tim Cheeseright and Sylvie Sciammetta, Cresset, discussed drug molecule design using Torx, including a cool across the Atlantic data sharing demo. Big pharma challenges of A.I. data analysis methods and DMTA data sharing were presented by Meir Glick, Merck and J. Martin Herold, AbbVie. While Simon Bury, SYNthesis Med Chem gave a CRO DMTA data sharing perspective and Darby Schmidt, Rheostat Therapeutics a small startup perspective. Al Dossetter, MedChemica discussed a project where a consortium of multiple pharmaceutical companies shared data through automated chemical transformations to encode knowledge from matched molecular pair (MMP) analysis.
Connecting Chemistry within Design- Make-Test-Analysis
David Hollinshead, Technical Director, Elixir Software
chemTraX is a secure, web-based solution that tracks all phases of compound design and synthesis and can connect internal and external teams working collaboratively on all projects. chemTraX works with legacy systems and facilitates tracking the DMTA process for companies without the need for inhouse computer hardware and software infrastructure.

Left: Tracking Designs. Right: Tracking Compounds.
Connected Molecular Design with Torx
Tim Cheeseright, Ph.D., Director of Products, Cresset
This next generation chemistry design platform (available in Autumn) is a joint Cresset and Elixir project. Torx™ is an outgrowth of Cresset's previous product Torch, which provided for molecule design using ligand alignment (Torch + Elixir= Torx). Chemists want to be able to draw and design structures in 2D. They then want to be able to share a design with a colleague, see a retrosynthesis for a new design, search in the patent literature for precedents, and see other designed molecules. Torx is a central platform which provides for all small molecular discovery chemistry. It is a web-based application, which features easy integration of DMTA modules. Torx permits integration of third-party tools for patent searching and retrosynthesis and has a modular construction. Torx Design™ – provides for collaborative 2D and 3D design and sketching within the browser application and sharing and refining of design ideas. All collaborators can view, edit and discuss molecules in a shared space dynamically. Torx presents a flexible GUI in the web browser.
Tim, along with Cresset colleague Sylvie Sciammetta, facilitated a live demo within the chrome browser showing a similarity search (live search in CHEMBL and shared editing and updating of molecular structures). Torx features dynamic sharing of molecules, not simply sharing of screens, and plugins can be developed for other applications (plugins are vue.js components). Torx will be able to perform data analysis using your favorite program through an API.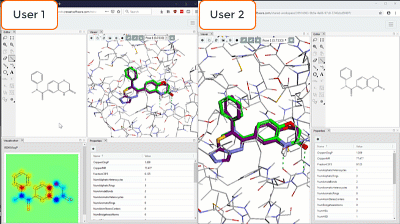 Is Machine Learning Overhyped in Chemistry?
Meir Glick discussed a curated database developed by the informatics group at Merck, CHEMGENIE, a chemical genetic interaction enterprise, to facilitate appropriate data capture, integration, mining and visualization for drug discovery. (P.S. Kutchukian, et al., Drug Discovery Today, 23(1), 151-160, 2018). Even more disparate datatypes must be considered as clinical data, genetic studies and compound structural knowledge must all be considered. Efficiently maintained centralized databases that capture compound design, compound selection and target information for predictive modeling are essential for the drug discovery process. Spreadsheets or nonintegrated data formats are not a viable solution for data sharing. Data from different sources, biochemical and cell-based screens, require curation of metadata and data. Harmonizing data identifiers, even for the same type of data is often a challenge. CHEMGENIE, was designed at Merck to address these needs, and to store compound target interactions, in-house screens, and publicly available data repositories, integrating and harmonizing the data.
Several examples of CHEMGENIE use for AI applications were presented. Unsupervised learning lead to the discovery of a SH2 allosteric inhibitor and comparison of activity scores for a promiscuous DCM (dark compound) lead to a valuable hit and potential tool compound. A practical example of supervised learning was presented- a classifier for high risk safety targets flagged potential safety liabilities early on and is an in-silico toxicology model currently deployed at Merck. Centralized reaction data management is currently being developed to build retrosynthetic predictive models.
Driving the Design/Synthesis Work Cycle Utilizing chemTraX
J. Martin Herold, Ph.D., Medicinal Chemistry, AbbVie
AbbVie is a global company with 22 primary research and manufacturing facilities. How can all these sites reliably share design/synthesis information?  AbbVie Bioresearch Center in Worcester MA switched to a design /synthesis model in 2013 meaning designers and synthesizers share project goals and joint ownership of the project goals. They use a variety of design tools, a variety of synthetic tools, and chemTraX to track all phases of compound design and synthesis across company locations. Martin discussed and presented uses of chemTraX within AbbVie and demonstrated how it facilitated data sharing across groups and locations. At AbbVie, chemTraX compound design tracking provides a comprehensive view of ideas at different stages of a project. Intermediates and synthesis of lead compounds are easily displayed. Each idea is captured as a single item which can be shared. chemTraX offers embedded editable ChemDraw and permits expanded shared design, and tools for synthesis, and a flexible platform to share synthetic progress. Synthesis routes can easily be shared, and problems addressed. The design-synthesis paradigm can be centralized and an organized location for synthetic routes can be created. Martin stressed that at AbbVie, chemTraX had been used as an effective tool for compound tracking.
Accelerating Multiple Medicinal Chemistry Projects Using Artificial Intelligence (AI):  A Review from the Past 8 Years of Real World Examples
Al discussed and presented projects at MedChemica, which focuses on SAR knowledge extraction and knowledge based design. MedChemica features two AI Software Platforms:
McPairs Enterprise- Complete in-house platform analysis of your own data and automated updating
McPairs Online-Secure web-based AI design platform-CHEMBL, patent data analyzed merged into one knowledge base
MedChemica seeks to accelerate medicinal chemistry using big data and AI with a fully automated matched molecular pair analysis, MMPA. A matched molecular pair is a molecule that differs by a well-defined structural transformation (Leach JCIM 2017, 57, 2424-36). The MedChemica algorithm captures the change, environment and knowledge in its rule selection. (Future Medicinal Chem 2009, 1, 405-8). The application of MedChemica's algorithm to several projects were discussed (i.e. Glucokinase inhibitors, Cathepsin K inhibitors, Ghrelin inverse agonists). Machine learning models were built for 19 critical seizure related CNS targets; Acetylcholine receptor, acetylcholine esterase, 5HT receptors antagonists, noradrenaline transporters, dopamine, 5HT PDE, Opioid, NMDA, monoamine oxidase GABA, M1, M2. One major project described involved collaborative sharing among big pharma- because MMPA information was shared in place of the actual molecules. The MMPA algorithm enabled knowledge sharing even of 'proprietary information'.
Observations and Trends in Chemistry Outsourcing: A CRO's Perspective
Simon Bury, Global Head of Business Development, Synthesis MedChem
Synthesis MedChem is a global chemistry focused CRO (Contract Research Organization) where all IP is owned by partners. Companies often outsource chemistry for a variety of reasons and do so in a variety of ways and contracts- as a fee for service, or a full time equivalent. Contract Research Organizations can provide a variety of services and medicinal chemists in CROs can be traditional medicinal chemists and analyze SAR designs and synthesize target compounds or be medicinal chemistry designers or just the synthetic chemists.
There are a variety of challenges with outsourcing chemistry to a CRO including methods and ways to deal with documentation, notebooks, and compound repositories, vendor qualification and selection. Good communication with the CRO becomes strategic as well as methods for effective secured data sharing. Once again, the theme of the necessity of secured data sharing is a constant.
Design, Make Test, Analyze Perspectives from a Start Up
Darby Schmidt, Ph.D., Senior Director of Chemistry, Rheostat Therapeutics
Since Rheostat is a small startup, and Darby has experience with small startups, who outsource a great deal of work from compound synthesis to cellular assay development and HTS, she offered a variety of questions which must be addressed by a startup. Including:
Who will make my compounds?
Do I have a cellular assay yet?
Who will develop my assay?
Who will make my proteins?
Is biophysical characterization needed?
Is there a possibility for protein-small molecule structure?
Can I do my chemistry and primary assay in the same place?
Is my assay straightforward and reliable?
It is important to have a 'testing funnel' to prioritize compounds and of course, a data storage structure for handling all the data. She stressed the importance of selecting the right CRO to work with and indicated an onsite visit was important. Compound management is strategic when you are outsourcing everything as you need a way to link and manage and merge all data. Relationships are important- being a good partner. Regular meetings, reports, yearly copy of notebooks, and well-defined expected deliverables – amount of compound, purity by NMR and LC MS and information needed for writeups for patents. Weekly PowerPoint presentations and experimental reports are a must, as are timelines to coordinate compound synthesis with animal studies, for example. Realistic timelines are needed from CROs, including granular steps for each process. There are definite design challenges at a small company, and it is important to keep a close eye on your target list. Do you have mix of easy and hard targets? Have they been working on a target for a long time? In summary, you must plan your process, be a good partner and continue change in your testing funnel…keep the process functioning.
Conclusion
The meeting emphasized that DMTA is important to all- small startups, big pharma, and CROs. Novel methods for effectively sharing data for design, developing synthetic methods and analysis of compounds and HTS data across and between collaborators within the same company but in disparate locations and with external collaborators are needed. With Torx and chemTraX , Cresset and Elixir seek to provide effective tools to fulfill this need.